2023年02月02日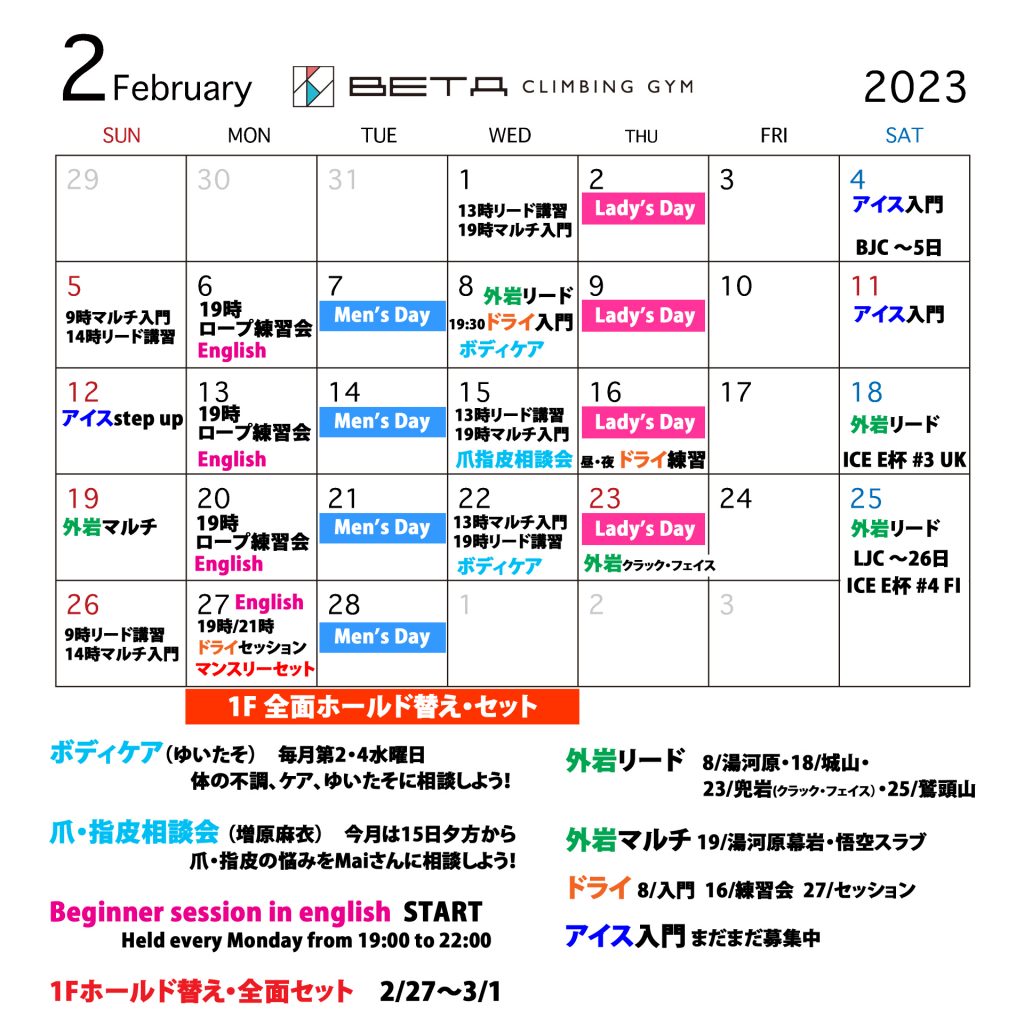 I will start two new things from February.
1)「Beginner session in english」
Every Monday, 19:00-22:00
A new staff member, Mr. KIKUCH, who is proficient in English from his study abroad experience, will be in charge.
Not only native English speakers, but also Japanese people who want to study English are welcome.
2)Body maintenance
2nd and 4th Wednesdays of every month, starting at 19:00
Former staff member Yuitaso is back as a judo therapist!
●We will help you build a body that is easy to climb with acupressure and taping suitable for each person!
●Please feel free to contact us if you have any worries or fatigue from climbing or daily work.
Treatment costs money.
All include time for counseling and self-care training.
・ Shiatsu 2000 yen
・ Shiatsu + taping 2500 yen
・ Shiatsu + 5 minutes 500 yen (up to 10 minutes possible)
・ Taping only 500 yen
■「Nail and Finger Skin Consultation by Athlete Nail」
We are scheduled for 15 (Wed) this month.
If you have a problem such as cracked finger skin, please come and visit us!
In addition, we sell all-in-one moisturizing gel AND, beta special price.
It's getting colder and colder these days. . Take good care of your fingertips! "Moisturize first!"
■
Business hours change
There is no change in business hours in February.
Normal business.
Weekdays 10:00-23:00
Saturday 8:00-23:00
Sundays and public holidays 8:00 to 20:00
■Monthly set / 1F full renewal
2/27 (Mon) – 3/1 (Wed), 1F is not available. note that.
■
Ice climbing
We are still looking for ′′ Introduction to ice climbing ′′ on 2/4 and 11!
Please check this out for details!「
Introduction to ice climbing
」
■Outdoor Lead Climbing & Multi-pich climbing Practice session
Detailed page will be announced later
■【Indoor】Lead climbing beginner class
Detailed page will be announced later
■【Indoor】Introduction to multi-pitch climbing
Detailed page will be announced later
■Dry tooling training
I will do it again this month. The only opportunity to do dry touring vertical climbing in Beta.
Scheduled to be held on 2/16 (Thursday)
Click here for more information about the dry tooling practice session
■Dry tooling session
Maybe because it's ice season, there are a lot of participants these days. Thank you!
But actually, it's more effective to practice throughout the year than to practice just before. This month is. Scheduled to be held on 2/27
Detailed page will be announced later