2023年05月02日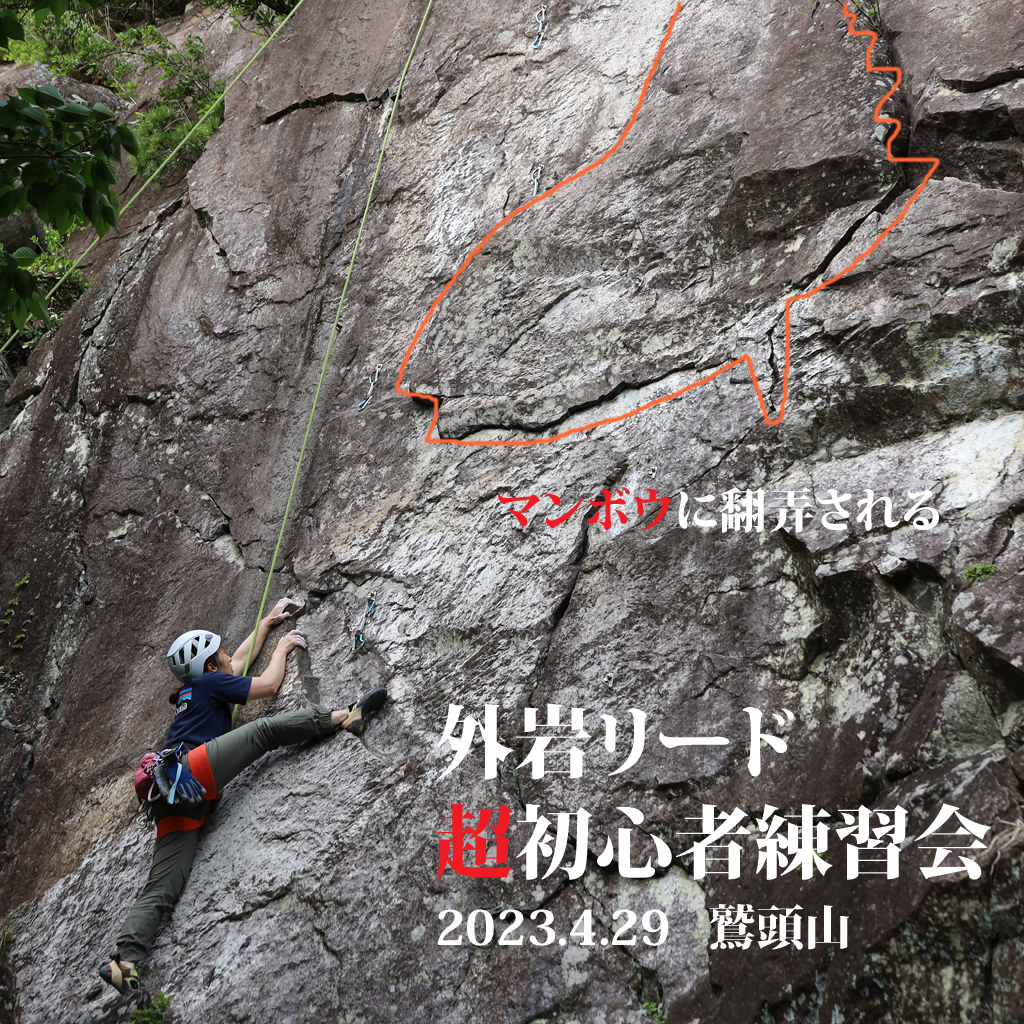 On April 29th (Sat), we held a Sotoiwa reed super beginner practice session at Mt. Washizu.
The beginner practice sessions that have been held so far are not "beginners"! !
Based on this opinion, we set up a new "super beginner" and carried out with the goal of carefully climbing easy-to-climb challenges.

However, it is the nature of climbers to want to challenge difficult grades.
After climbing the single table, I finally tried 5.10a.
The name of the assignment was "Sunfish". It is named because the shape of the rock resembles it.

Bad for a healing name.
From the beginning, the middle stage is poorly held, and it is difficult to clear.
Even if you use your specialty moves and moves that make full use of your reach, you can't clear it.
It is tossed by sunfish. . .

After that, I put a rope on the 5.9 task, thinking that I should finish the climb comfortably at the end, but this is also bad.
Unfortunately, this is also homework.
Eagle head. There is a unique and interesting route.
A rocky place where 12 routes were drawn for the first time in Japan.
There are various challenges other than the main area, and it is a compact but fun rocky place.

Tomorrow, May 3rd, we will also hold a super beginner practice session at Mt. Washizu.
We are still recruiting, so if you are interested, please come by.
■Problems climbed
Nanazu 5.7
R31 5.6
Andante 5.9
Anonymous route About 5.9?
Sunfish 5.10a
Maize 5.10d ★★
Wise Bar 5.9
■ Future plans
5/3 (Wednesday) Super Beginner Reed Practice Meeting, Mt. Washuzu
5/9 (Tue) Sotoiwa Reed Practice Meeting Saku Shiga
5/20 (Sat) Sotoiwa Reed Practice Meeting Tennoiwa
5/25 (Thursday) Sotoiwa Reed Practice Meeting Ogawayama
5/27 (Sat) Sotoiwa Crack Practice Meeting Ogawayama
5/28 (Sun) Sotoiwa Multi-Practice Meeting