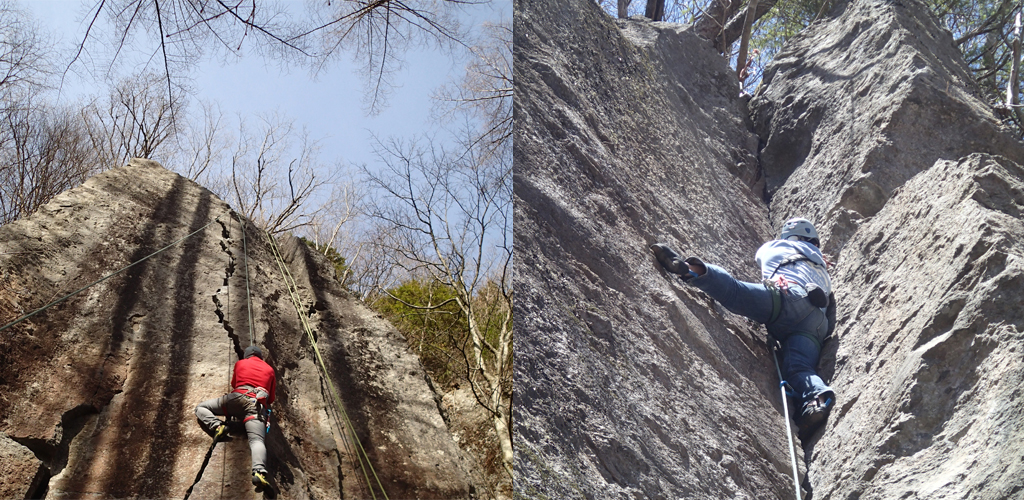 Every month, we hold a crack climbing beginner practice session in an outdoor field.
It assumes that you can climb on the face to some extent. It is necessary to have enough climbing ability to RP 5.10 units with a lead.
Overview
[Place] The location will be different depending on the time, so we will inform you each time.
Yukawa/Jogasaki/Ogawayama/Kofu Makuiwa
[Access etc.] We are planning to meet at the site around 9 o'clock. The dissolution is around 17:00 local time. If I have time, I will return home with delicious local food.
For those who do not have access to the site, it is possible to ride in the staff's car (gasoline fee / highway charge discount). The meeting place will be decided after adjusting, but it will be around 6 o'clock in Tokyo.
[Lecturer] Koji Nakamura (Buna no Kai)
[Target] Crack climbing beginners (Face climbing is more enjoyable if you can RP with a lead of 5.10)
* Beta membership registration is required.
* Participation must be over 20 years old.
[Details] Crack climbing basics and experience
・How to tap
・How to do hand jam/foot jam ・How to make it work
・How to install the cam and points to note
・Crack climbing experience with top rope
・Climbing with aids by installing the cam yourself with the top rope
*For the sake of convenience, we will climb about 3 routes with a top rope.
*If you have any requests such as wanting to lead, please let us know.
*If you have any questions, please ask as many times as you like, as I don't think you'll understand just by telling me once.
<
[Capacity] About 10 people (minimum 4 people)
[Participation fee] 7700 yen (tax included)
Cancellations are accepted at any time, but a cancellation fee (100% of the course fee, 7700 yen) will be charged if canceled on the day before or on the day.
Please pay in cash at the beta store by 18:00 the day before the event.
* If you are not a beta member, you need to register as a member.
Pre-registration
is recommended.
[Clothes and belongings]
Required: Climbing shoes, chalk (no pine resin in case of liquid chalk), harness, taping tape, climbing helmet, drink, lunch, warm clothes
Optional: Belay device, belay gloves, leisure sheets, etc.
*Staff will prepare protective equipment such as cams and nuts. If you want to use your own, please bring it with you.
[Clothes] Clothing suitable for climbing (top and bottom)
*The rocky areas in winter, spring, and autumn can get quite cold. Be sure to bring warm clothes such as fleece and down jackets.
[In case of cancellation] We may decide to cancel due to circumstances such as weather. In case of cancellation, we will contact you by e-mail or telephone by 19:00 the day before.
When applying, please be sure to enter a phone number and email address that can be contacted on the day before and on the day. In case of cancellation, the course fee will be refunded in full (store or bank transfer).
Participation
Please see the dates page to register.
[Recruiting]
11th October 14, 2023 (Saturday) Ogawayama
[Finished]
10th September 17, 2023 (Sunday) Ogawayama
[Finished]
The 9th Sunday, August 6, 2023 Ogawayama
[Finished]
The 8th Sunday, July 2, 2023 Ogawayama
[Finished]
The 7th Saturday, June 17, 2023 Ogawayama
[Finished]
6th May 27, 2023 (Saturday) Ogawayama
[Finished]
5th Saturday, April 15, 2023 Ogawayama
[Finished] 4th March 21, 2023 (Tuesday holiday) Kofu Kabutoiwa
[Finished] 3rd February 23, 2023 (Thursday holiday) Kofu Kabutoiwa
[Finished]
2nd May 18, 2019 (Saturday) Yukawa Holding Report
[Finished]
1st event Saturday, April 13, 2019 Yukawa Report