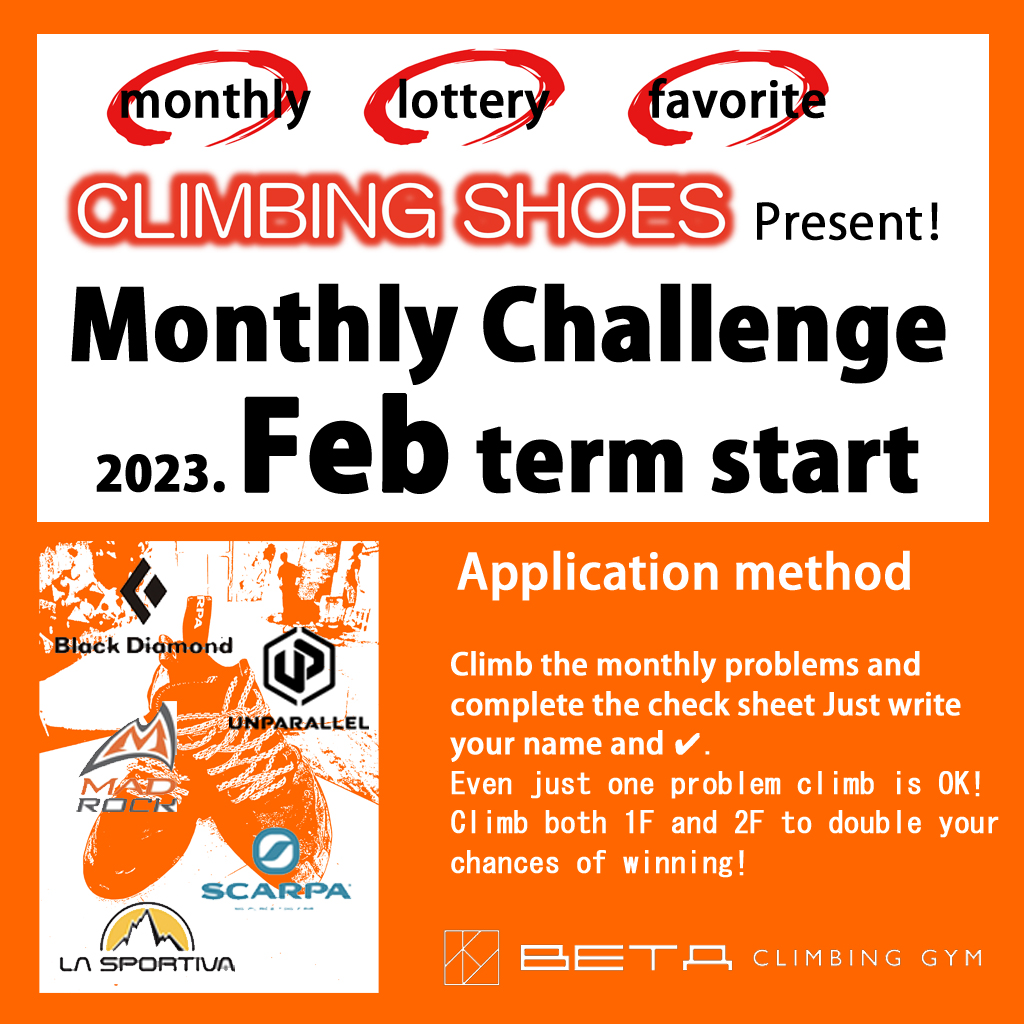 February 2023 monthly challenge has started! There are 15 problems on each floor, for a total of 30 problems.

February monthly starts a little early. Due to the staff's schedule, we had to start early because Kaito is going on an expedition at the end of the month.

Well, February monthly, the taste is slightly different from last month. In one word, it's "strenuous".
The beginning is straightforward. It's the same as usual from the middle stage onwards.

This month, we have various problems such as balance, a little coordination, and retention.
The annual "I want everyone to fly" number 6! "It's not that far this month, so even if you're not good at flying, please try it!"
⭐︎For those who haven't tried it yet, it's a different kind of fun than tape assignments! "The grade is about level 5kyu."
⭐︎If you climbed No. 1 and felt that it was difficult, please touch up to around No. 4! "Number 4 may be easier than number 1."
⭐︎If you have only touched the 1st floor, please climb the 2nd floor and write it on the list! "Your chances of winning will be doubled."
Please enjoy this month as well! !
■Monthly challenge gift
1st prize Climbing shoes of your choice (Choose from Scarpa/Unparallel/Sportiva/Mudrock/Black Diamond)
2nd Prize Original T-shirt
3rd Prize all-day ticket
We hope that you will enjoy the weekly and monthly problems and become stronger, and that you will feel that you have become stronger with the permanent regular problems (tape assignments). We are uploading reference videos of tape assignments to YouTube. I hope it will be helpful.
https://www.youtube.com/channel/UCH0_mnUMOvDSbhfJ9pBLglw
Weekly problems often have a slightly different taste than regular problems (tape problems) and monthly problems.
Please enjoy the weekly problems as well!