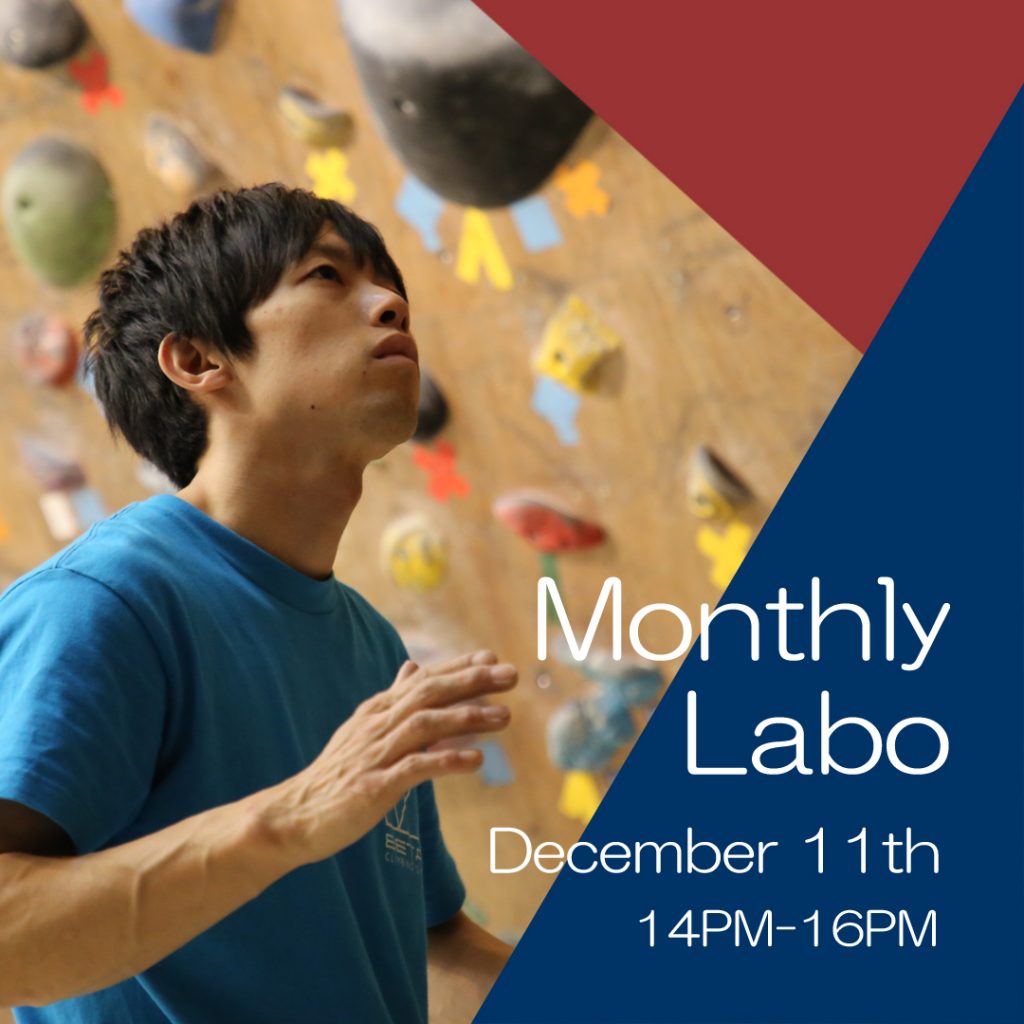 New course "Monthly Labo"
Moves are explained using monthly assignments that change every month.
We invite all participants to climb and give advice on how to improve and overcome their weaknesses.
If you feel like you don't understand a move, can't reproduce it, aren't good at it, or want to get better at any of the monthly assignments, please join us.

Beta's chief setter, Shun, will analyze and give instructions for each individual.
Participation conditions are those who can complete the monthly assignments. (To conduct sessions using monthly assignments)
If you can't climb the monthly challenges yet, but would like to receive instructions, please visit "Personal Lessons"

I want to know these moves such as dyno (lunge), cypher, kyon, toe hook, heel hook, cross move, fracking, etc. etc. is also fine.
Also, Shun, who is in charge, is 161cm tall and small. Problems unique to young children, such as distance calculations, essential techniques for small children, and smearing, are also OK.


Held on Monday, December 11th!
Overview
[Location] Beta [1F] [2F]
[Time] 14:00-16:00
[Instructor] Shun (Toshiya Nagayama)
[Target] People who can complete monthly assignments
*Participation must be 18 years or older.
[Capacity] 6 people for each division
[Course fee] 1100 yen (tax included)
*Separate gym usage fee.
*Please pay at the reception on the day.
About participation
If you would like to participate, please apply at the Beta store, by phone, or by email.
▼For email: Please send an email with the address, subject, and body text below.
◆Email address: info@beta-climbing.com
*Please replace @ (at mark) with half-width characters.
◆Email subject:〇/〇 [Indoor] Monthly Labo
Example: "4/2 [Indoor] Monthly Labo application" ← Please enter the month and date in
◆Email body: Please write 1. to 5. below.
1.Name
2.Gender
3.Date of birth
4.Telephone number (please write the number where you can be contacted on the day)
5. Beta member or non-member (please write either; if you are a non-member, please also write your pre-registration number)
*If applying as a group, please write the names of other participants.
※※※※※※※
Those who have applied will receive an email from Beta Climbing Gym confirming that the application has been accepted. If you do not receive a reply within 1-2 days after sending your participation application email, please call Beta.
※※※※※※※