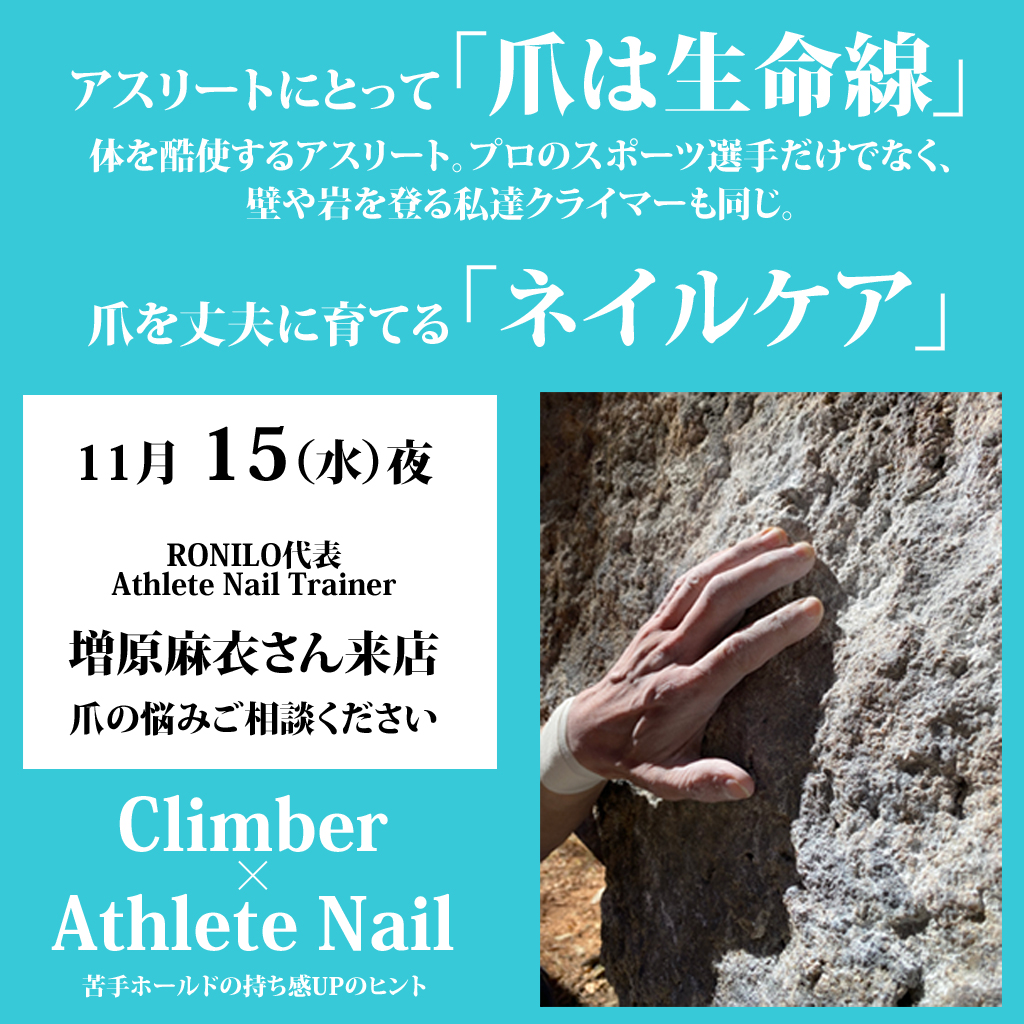 Consultation meeting for nail and finger skin concerns
wednesday, November 15
Ronilo Representative Athlete Nail Trainer Mai Masuhara will visit us.
Consultation is free.
If you have any concerns or worries about your nails, please feel free to contact us.
Recently, more and more people are taking care of their toenails. For climbers who wear tight shoes, it's only natural that their toenails hurt! It may be a lot of people who think.
However, you may be able to relieve the pain by reinforcing your nails with nail care and growing your nails strong.
Please feel free to contact us.

Not only climbers, but mountaineers and trail runners are also welcome.
Men! "Let's learn about the culture of nail care!" Care for weakened nails, care for improving performance, and important for athletes. Of course it's stylish too!
Please ask the staff on the day. (We will prepare a consultation reservation form. You can also make a reservation in advance.)
Learn more about athlete nails
Are you climbing as hard as you can without thinking about your nails and fingertips?
For those who answered No…
-Pain in nails and fingers
・I'm afraid it will get worse because my nails are cracking.
・Ripped finger skin
・I can't hold the hold well
If you have a problem with your nails or fingers, it will have a bad effect on both your mental and physical…
If you can solve problems with nails and fingers, it may be a hint for achieving goals and collecting tasks! !
The hint to solve the problem is in daily care!
mentally
-Pain in nails and fingers
・I'm afraid it will get worse because my nails are cracking.
・Ripped finger skin
・I can't hold the hold well

⇒ Anxiety
If there is an element of anxiety, I will save my movement somewhere and I will not be able to put out 100% of my power.
There are many body parts that can be maintained to prevent such anxiety.
Fingertip care is one of them.
Nail care, which is the terminal part, is also connected to mental care, allowing you to fully demonstrate your abilities.
⇒ The important thing is a sense of security
physical
-Pain in nails and fingers
・I'm afraid it will get worse because my nails are cracking.
・Ripped finger skin
・I can't hold the hold well
⇒ Strength escapes
Bones do not extend to fingertips. Nails, which compensate for this, are important organs that protect the fingertips and control the amount of force applied.
It is nail pressure that makes the most of the functions of the fingertips.
If the nails are in a healthy state, it will be difficult to miss the action of the muscles and tendons of the fingers, the accuracy of the holding will increase, and it will lead to a state where it is easier to demonstrate your ability.
⇒ A healthy body is important
What is nail pressure
Nail pressure means that the nail firmly receives the force applied from the pad of the finger. For example, you can throw the ball farther or faster. When running, the power of kicking out is increased, and the body balance that supports and stabilizes the body is also improved.
From a mental and physical (physical) point of view, nail pressure is an important factor that is indispensable for sports.
Even if you use only boneless fingertips to hold the finger, if the nail is in a healthy and moderately hard state, the nail pressure will support the finger, increasing the sense of stability.
Athlete Nail Trainer® x Climber
◆Trainer Mai Masuhara's experience story◆
~ Athlete Nail® by a manicurist with 7 years of climbing experience ~
[Before gaining knowledge of athlete nails] I think my nails are a hindrance while climbing ⇒ I had my nails as deep as possible
*Reason: When I had to have a fine hold, it was better not to hit walls and rocks with my nails, and I used to use deep nails when it got in the way. If my nails were too long, it would hit the wall and I felt that I could not hold the ball.
[After gaining knowledge of athlete nails] She finds out that her power is running away⇒Adjust the length of the nail to a length that is easy to climb (= the same length as the outline of the finger) >
*Reason: When holding a small hold, if I adjusted the length of my nails so that it would be easier to climb, I felt a sense of stability when I held it, and it was easier to climb, and I felt less pain in my fingertips.
* Athlete Nail Trainer® is certified by the Athlete Nail Association
Are they different from fashionable nails?
Athlete Nail is a nail maintenance technique that adjusts the length and shape of nails to prevent injuries and improve performance.
・Professional athletes
・Those who exercise as a hobby
・Those who want to prevent injuries to their fingertips due to sports. . .
For all athletes who play sports such as.
Not only for climbers, but also for those who are engaged in sports that abuse their nails, such as trail running and mountain climbing.
Please consult a nail trainer for nail troubles
If you have a friend or family member who is a manicurist, please consult them first if you have any problems!
If you have a solution, it may be easier to talk to someone near you!
Athlete nail trainers specialize in knowledge of damage to nails and around nails caused by athletes' movements, and techniques to maintain them. Please feel free to contact the athlete nail trainer!