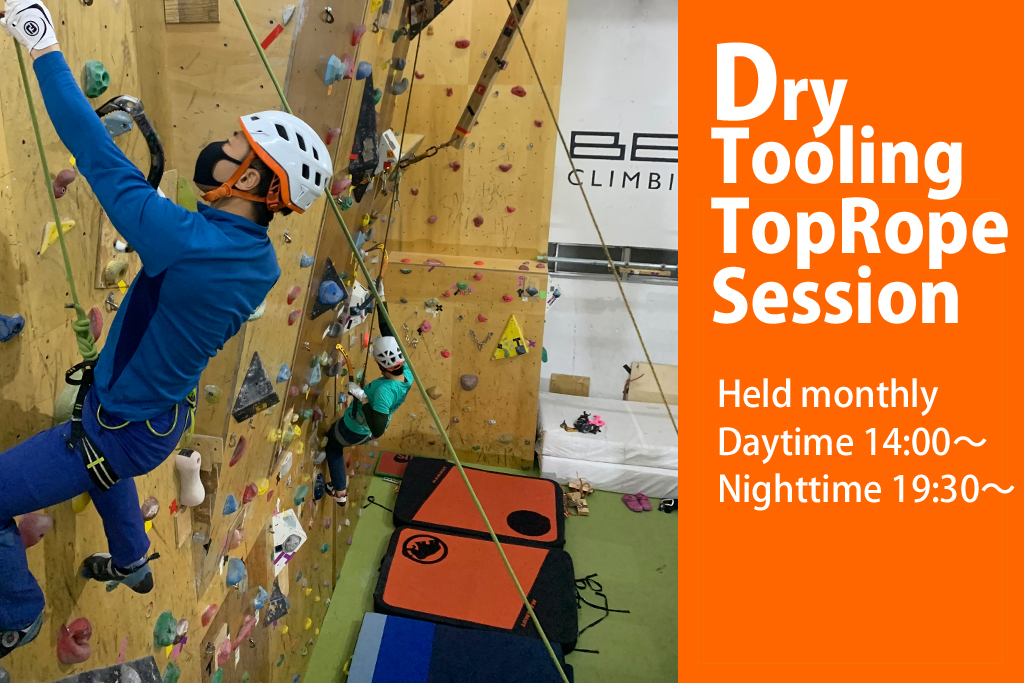 This is a session for dry tooling experienced people.
Experienced doesn't have to be good. If you have taken "Introduction to dry tooling", you are an "experienced person".
It's also the only chance to vertically climb Beta's face wall with an ice ax and a rope. Feel free to enjoy!
(Usually, if you use the gym and climb the 3rd floor dry challenge, climbing using a rope is prohibited for safety reasons.)
The route was set by Mr. Kazuhiro Kodaira, who is known as "Kazuo-san" in the dry tooling community. They always put their ingenuity and prepare a fun route.
Not only dry tooling enthusiasts, but also those who love ice climbing, please join us! "Perfect for off-season training and fun!"

If you are new to dry tooling, please take "Introduction to dry tooling" first.
Overview
【Place】BETA climbing gym【3F】
【Time】It will be carried out in two parts
Daytime :14:00-17:00
Nighttime : 19:30-22:30
*The contents are the same.
【Trainer】Mr.Kazuhiro Kodaira(Nickname:Kazuo-san)
Dry Tooling/Ice Climbing Enthusiast/Photographer
【Target】Experienced dry tooling
※Participation must be 18 years or older
【Capacity】6 people each time 
【Course fee】3000 yen (tax included)
 *Gym usage fee included.
 *Please pay at the reception on the day.
【Belongings】
Required: Clothing suitable for ice climbing (long sleeves and long pants that are easy to move in), ice ax, helmet, gloves (recommended for golf), climbing shoes,
harness
*Don't forget! !
Rental: Ice ax, helmet, climbing shoes (paid 330 yen/please bring your own socks), and harnesses are available for rental.
*Please rent climbing shoes on the 1st floor before coming to the 3rd floor.
Application

※みなさまにお知らせ※
講習会中は、【3F】のクライミングエリアの一般利用はできません。申し訳ございませんが、何卒ご了承ください。