2023年12月07日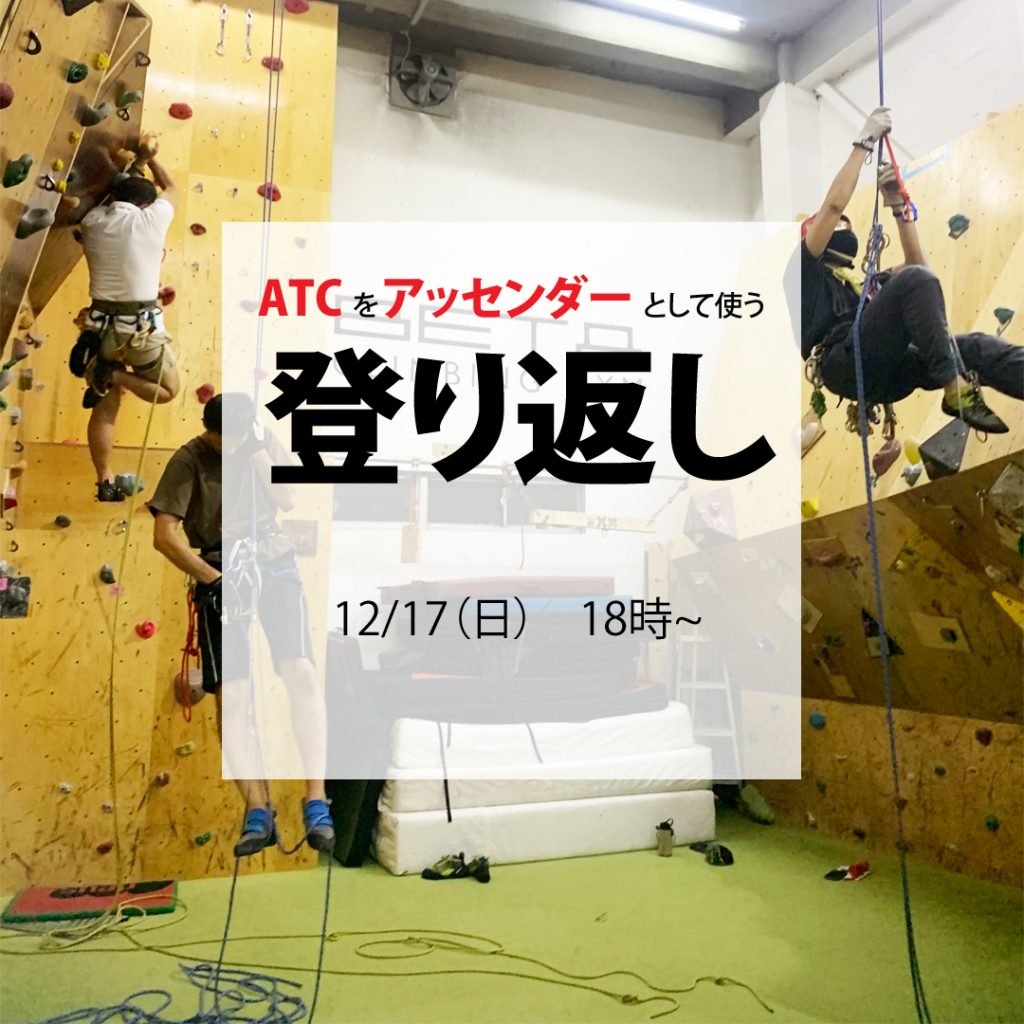 Overview
"Climb back" is an essential technique to deal with "what if" while rappelling.
No matter how careful you are, troubles such as descending to the wrong place, the length of the rope not being long enough while suspending in the air, etc., may occur no matter how careful you are. It will happen.
In such cases, you will need techniques to climb back up.
If you can hold the rock with your hands or feet, you can climb back up with some ease by climbing.
However, if you cannot reach the rock while suspended in the air, you will need solid climbing techniques.
This course will teach you how to climb back up in such a situation.
[December date]
12/17 (Sun) 18:00~
【Venue】
Beta 3F Shinjuku Face
[Content]
I will tell you how to climb back up using ATC as an ascender.
This method is relatively easy to set up and the transition from climbing back to rappelling is smooth.
・Rappelling with backup system
・Climbing back from temporary fixation
– Rappelling from the climb back up
[Target people]
Those who can rappel.
【Teacher】
Yasushi Ozawa (Owner of Beta Climbing Gym)
[Capacity]
Minimum number of participants: 1 person
Capacity: 6 people
[Course hours]
2 hours
[Course fee]
4400 yen (tax included)
【Belongings】
Required: Harness / climbing shoes / ATC + HMS type carabiner with safety ring / Prusik cord + oval type carabiner with safety ring / self-belay cord (PAS / dual connect adjustment) + carabiner with safety ring / 120cm sling
*Rental available (shoes 330 yen)
About participation
If you would like to participate, please apply at the beta store, by phone, or by email.
▼For e-mail: Please send an e-mail with the following address, subject, and text.
◆Email address: info@beta-climbing.com
*Please replace the @ (at mark) with half-width characters.
◆ Email subject: 〇/〇 [Indoor] Climbing course application
Example: "4/2 [Indoor] Climb back course application" ← Please fill in the month and day
◆E-mail text: Please write the following 1. to 7.
1.Name
2. Gender
3.Date of birth
4. Phone number (Please write the number where you can be contacted on the day)
5. Beta member or non-member (Please write which one. If you are a non-member, please also write your pre-registration number.)
6. Rental availability (if yes, item name)
*If you are applying as a group, please include the names of other participants.
※※※※※※※
For those who have applied, we will send you an e-mail from Beta Climbing Gym at a later date. If you do not receive a reply within 1-2 days after sending your participation application email, please call Beta.
※※※※※※※