2023年04月28日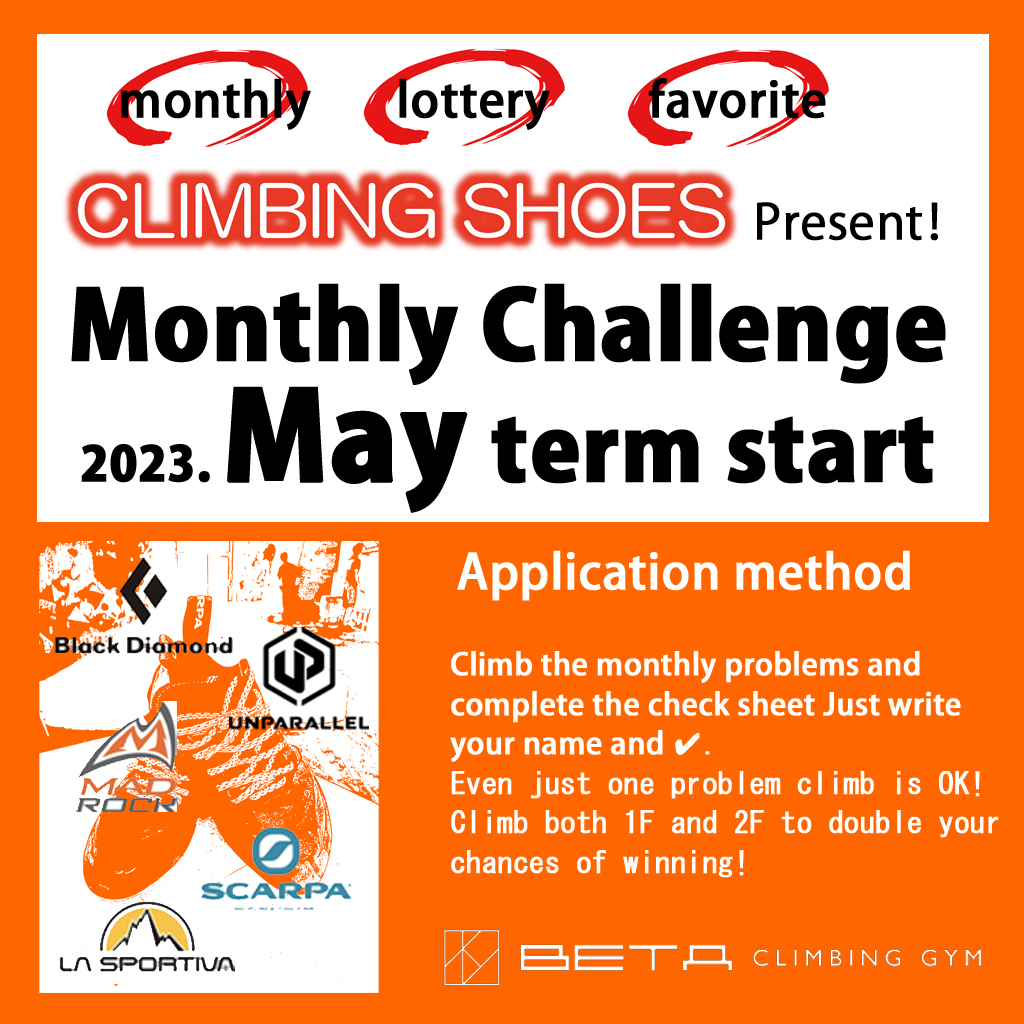 The monthly challenge for May 2023 has started! There are 15 tasks on each floor, for a total of 30 tasks.
May monthly starts a little early. Golden Week, please give it a try!
Well, may monthly may be easier than usual? "What do you think?"
This month, we have various challenges such as balance, a little coordination, and retention.
The annual "I want everyone to fly" No. 5! "It may not arrive, but let's fly!"
Climb, get stronger, get shoes!
⭐︎ For those who haven't tried it yet, it's different from tape assignments! "The grade is about level 5."
⭐︎If you touch number 1 and feel that it is difficult, please touch up to number 4! "Number 4 may be easier than number 1."
⭐︎ If you have only touched the 1st floor, please climb the 2nd floor and write it on the list! "Your chances of winning will be doubled."

Please enjoy this month as well! !
■ Monthly Challenge Present
1st prize Climbing shoes of your choice (Choose from Scarpa/Unparallel/Sportiva/Mudrock/Black Diamond)
2nd Prize Original T-shirt
3rd class all-day ticket
Climbing shoes will be presented by lottery to those who climbed the monthly assignment and wrote their name on the check sheet. The number of completed climbs has nothing to do with the probability of winning. It's OK to do just one assignment. Please challenge! "Simple assignments are about level 5."
In the beta, we would like you to enjoy the weekly and monthly challenges and get stronger, and we would like you to feel that you have become stronger with the permanent regular challenges (tape challenges). Reference videos for tape assignments are uploaded to
YouTube
. I hope it will be helpful.
The reference video of the weekly assignment is uploaded to Instagram.
Weekly assignments often have a slightly different taste than regular assignments (tape assignments) and monthly assignments.
Please enjoy the weekly assignments as well!